Mall sculpture (Shopping Malls and Retail Centers)
Total 4 Posts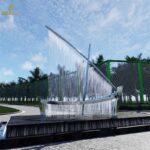 Details Descriptions of Fountain A fountain is a decorative structure or architectural feature that typically consists of a basin or pool of water, a source of water supply, and a system of jets or sprays to propel and distribute the water. Fountains are designed to create a visually appealing and d...
Just today we finished one of this art deco chair plated gold color, the whole shape we can feeling modern art and also the surface plated gold color, make the whole chair more modern and art, if your room or your hotel is a modern theme, then chose this art deco chair. More details about [...]...
Life size bull sculpture We are a professional custom sculpture factory.  We mainly made stainless steel sculpture, brass sculpture, bronze sculpture, marble sculpture, even fiberglass sculpture. If you just have an idea, you can tell me your needs, and then our artist teams will give you advice and...
Stainless steel modern abstract sculpture We just finish this sculpture, it made of 304 stainless steel material, mirror finishing. In this way, the sculpture will not damage, not rusty, not fade. the mirror surface will be shiny . We have made 3D drawing for this sculpture when we start make it,and...