Urban Sculpture (Plazas and City Centers)
Total 3 Posts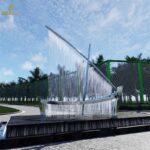 Details Descriptions of Fountain A fountain is a decorative structure or architectural feature that typically consists of a basin or pool of water, a source of water supply, and a system of jets or sprays to propel and distribute the water. Fountains are designed to create a visually appealing and d...
As the leaves change color and a crisp breeze fills the air, the enchanting season of Halloween beckons us to embrace its magic. Amidst the pumpkin patches and ghostly figures, there's a unique and captivating addition that promises to transform your outdoor space into a realm of wonder. Intro...
Life size bull sculpture We are a professional custom sculpture factory.  We mainly made stainless steel sculpture, brass sculpture, bronze sculpture, marble sculpture, even fiberglass sculpture. If you just have an idea, you can tell me your needs, and then our artist teams will give you advice and...