large metal garden giraffe sculptures modern art colorful giraffe sculpture DZM 1084
life size large geometeric girraffe art sculpture colorful sculpture 1.Products NO.: DZM-1084 2.Material: Stainless steel /#304/#316 3.Thickness:more than 2mm 4.Size:Custom made depends on your prefer 5.Color: custom made depends on your prefer 6.Package: strong wooden cases 7.Service: Free design, creation, door to door delivery 8.advancement: Factory directly 9.Guarantee: more than 30 years 10.MOQ: 1pc
Place of Origin:
Hebei, China
Giraffe sculpture
Speaking of wild animals in Africa, giraffes with beautiful patterns and peculiar shapes often come to our minds first. But you may not think that, due to the 40% decline in the number of giraffes in the past three decades, on December 8, 2016, the International Union for Conservation of Nature (IUCN) listed giraffes as a vulnerable species. We usually see giraffes in zoos. The first thing we see when we see giraffes is the long necks of giraffes.
The giraffe's neck is probably best known (at least to biologists) for its bizarre nerves, especially the left recurrent laryngeal nerve, the one that sends nerve impulses to its larynx. It is here that we have seen a very ill-advised design in the animal world. Although the male giraffe looks naive, he has a bad temper. When in heat, they attack each other, throwing off their long, flexible necks and colliding with their heavy, bony heads.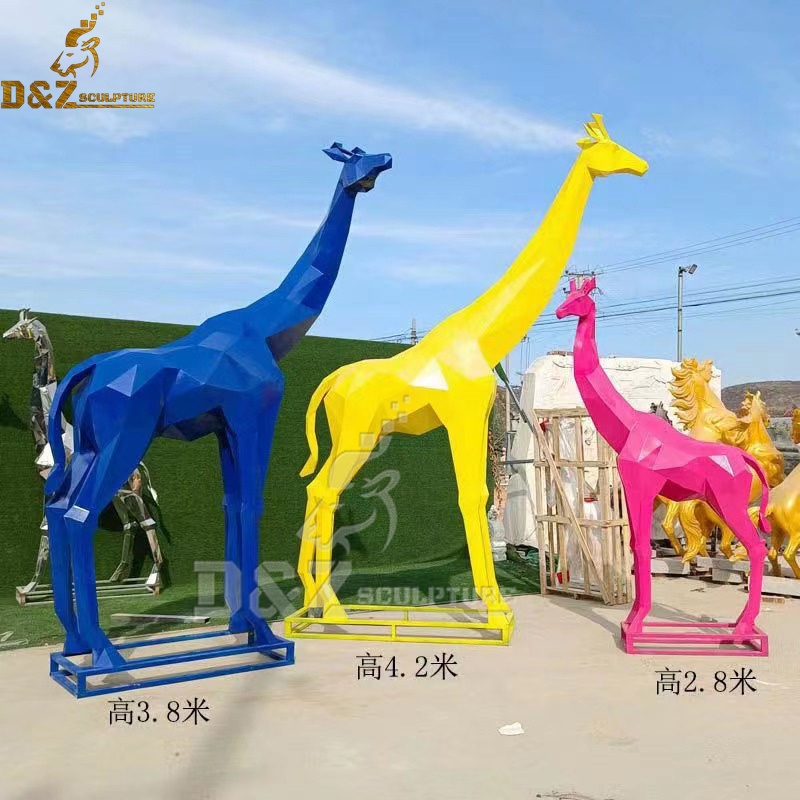 The production of stainless steel cut-face giraffe sculpture is not complicated. Generally, there are two production methods. The first is the traditional method, which is to make a glass fiber reinforced plastic model and use the model to make it; the other method is to make 3D drawings, and then measure each The size of the cut surface is then directly laser cut and then spliced. Compared with the first method, the second method is more cost-effective and has a trend of increasing popularity.