large outdoor corten steel sculpture modern design art for garden decor DZM 591
D&Z  art sculpture is a professional custom made sculptrue ,scuh as metal sculpture(stainless steel sculpture, brass sculpture, bronze sculpture),modern outdoor sculpture metal sculptrue stainless steel garden sculpture .we can make the sculpture according to your idea. large outdoor corten steel sculpture modern design art for garden decor 1.Products NO.: DZM-591 2.Material: Stainless steel /#304 3.Thickness:more than 2mm 4.Size:Custom made depends on your prefer 5.Color: custom made depends on your prefer 6.Package: strong wooden cases 7.Service: Free design, creation, door to door delivery 8.advancement: Factory directly 9.Guarantee: more than 30 years 10.MOQ: 1pc
Place of Origin:
Hebei, China
Introduction of large outdoor corten steel sculpture:
Transform your outdoor space into a work of art with this exquisite large outdoor corten steel sculpture, a modern masterpiece designed to enhance your garden decor. this sculpture is a testament to the harmonious fusion of nature, geometry, and art.
A Testament to Timeless Elegance
Immerse your garden in the rustic charm of corten steel: this corten steel sculpture boasts a natural rust surface treatment, which not only adds a touch of antique appeal but also guarantees durability.
Public Sculpture at its finest: This magnificent creation is more than just a garden ornament; it's a public sculpture designed to elevate outdoor public decorations to a whole new level.
Welding Precision: Crafted with the highest standards of welding technique, each element of this sculpture is meticulously pieced together to form a captivating artwork.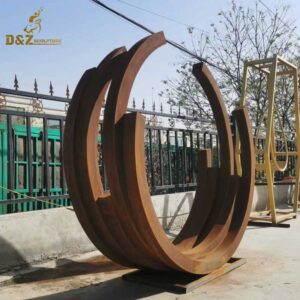 A Symphony of Geometric Elegance
Modern Design for Modern Spaces: this corten steel sculpture is a modern masterpiece that captures the essence of contemporary garden decor. Its design comprises several geometric circles, each one intentionally incomplete, yet together, they create a mesmerizing work of art.
Geometric Inspiration: Geometry meets nature in this sculpture, and the results are breathtaking. Assembled circles form a captivating symphony of shape and form, offering viewers a unique visual experience.
Unique Outdoor Elegance: This corten steel sculpture transcends conventional garden decor. It invites the observer to explore the interplay between the sculptural geometry and the ever-changing natural environment.
Durable and Resilient: Made from high-quality corten steel, this sculpture is built to withstand the test of time, showcasing the charm of rusting steel while maintaining structural integrity.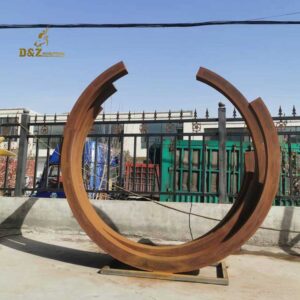 In summary, this large outdoor corten steel sculpture, model DZM-591, is a testament to the synergy between nature, geometry, and art. This public sculpture embodies the elegance and durability of corten steel, and its mesmerizing design, comprised of interconnected geometric circles, creates a captivating outdoor focal point. Elevate your garden decor, public outdoor decoration, or commercial space with this modern masterpiece. Its timeless beauty will endure, making it a valuable addition to your outdoor environment.
Make a statement with DZM-591 corten steel sculpture and redefine the aesthetics of public sculpture. Embrace the beauty of rusted steel and the power of geometric design in your outdoor space. Order yours today and let the artistry unfold in your garden.