stainless steel circle wire modern sculpture metal art sculpture for garden DZM 1079
this cirlce sculpture is made of stainless steel wire,hollow out design for garden 1.Products NO.: DZM-1079 2.Material: Stainless steel /#304/#316 3.Thickness:more than 2mm 4.Size:Custom made depends on your prefer 5.Color: custom made depends on your prefer 6.Package: strong wooden cases 7.Service: Free design, creation, door to door delivery 8.advancement: Factory directly 9.Guarantee: more than 30 years 10.MOQ: 1pc
Place of Origin:
Hebei, China
wire circle sculpture
The fusion of the artist's whimsy and stainless steel often creates works of art that are eye-catching. Contemporary stainless steel sculpture art is the extension of spiritual materialization based on the artist's own living experience. Judgments and choices of individuals in the collision and blending of cultures. The artist's spiritual experience and spiritual creation are integrated into the stainless steel sculpture, which makes the stainless steel sculpture have emotional temperature and humanistic atmosphere.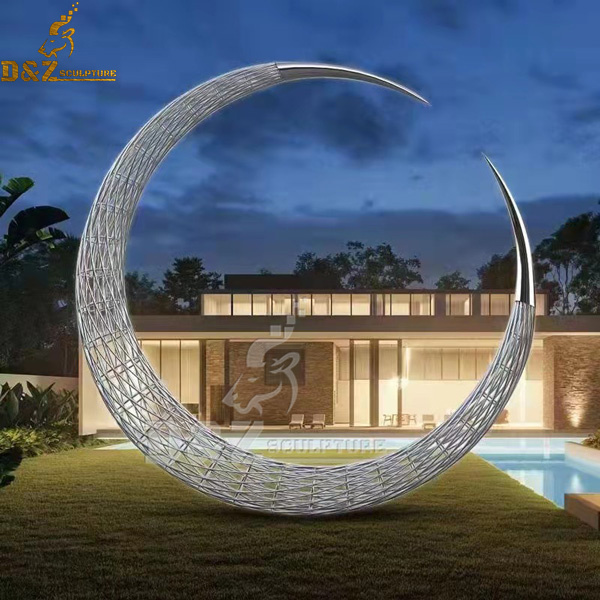 Artists create a mottled mirror image of the artwork and everything in the space between the virtual reality, aggregation, black and white, smoothness and roughness of the space through artworks, and present different interpretations of space and space to viewers with different cultural experiences through imagery and abstraction. Spiritual questioning.
About Stainless Steel Sculptures in China
The concept of sculpture in China began in the early 20th century. As Cai Yuanpei said: "Music architecture is enough to express the outlook on life, and the most direct expression is sculpture." The importance of sculpture art can be seen.
Since entering the 21st century, the art world has begun to attach importance to people-oriented, and has begun to pay more attention to people's living conditions and spiritual belonging. The concept of freehand sculpture came into being.
Many customers or designers do not know which kind of stainless steel to choose when customizing stainless steel sculptures. The materials commonly used for stainless steel sculptures are mainly 301, 302, 303, and 304. I will tell you about these materials below. The difference:
301 stainless steel, this kind of stainless steel has better hardness and can also have good welding performance during welding. The ability to resist wear and fatigue is better than that of 304 stainless steel, and many sculptures are often made of 301 stainless steel. The machinability of this kind of stainless steel is also better, and it can be made into many more complex shapes and patterns when making sculptures.
302 stainless steel, the properties of this stainless steel and 304 stainless steel are basically the same, that is, the ability to receive radiation is better, and the hardness is also relatively good. When used to make sculptures, it can adapt to the weather and environment. It also has a good adaptability to the geographical environment, and it has a good ability to withstand corrosion, so it has a good ability to adapt in the north and south of the country, whether in coastal areas, in the north or in the south.
303 stainless steel, this stainless steel is easier to cut when it is made. The material used in the stainless steel mirror sculpture picture is mirror stainless steel, and "mirror" refers to the surface state of stainless steel. "Mirror surface" should belong to "8K" surface in stainless steel industry. Common mirror stainless steels are divided into three types: 6K, 8K, and 10K.
304 stainless steel, this kind of stainless steel is also a relatively common type, and it is also seen by many friends. It can be used in many industries. For example, many scalpels are made of 304 stainless steel. This stainless steel has been It meets the requirements of the food industry, and its performance is of course very superior, such as the ability to resist oxidation, the ability to resist acid and alkali corrosion, and the ability to resist weather. Of course, if 304 stainless steel is used for sculpture, it may cost. will be higher.