Large Metal Dolphin Sculpture for Garden Outdoor Decor DZM 1103
stainless steel metal dolphin garden sculpture for outdoor decoration 1.Products NO.: DZM-1103 2.Material: Stainless steel /#304/#316 3.Thickness:more than 2mm 4.Size:Custom made depends on your prefer 5.Color: custom made depends on your prefer 6.Package: strong wooden cases 7.Service: Free design, creation, door to door delivery 8.advancement: Factory directly 9.Guarantee: more than 30 years 10.MOQ: 1pc
Place of Origin:
Hebei, China
Metal Dolphin sculpture Intruduction
Each of our sculptures is a concave and convex art, lifelike, but lifeless, exquisite, but silent, ingenious and ingenious. Like a condensed and meaningful poem, it is intriguing, arousing people's thinking and reverie, making people feel the process of change and rich content from the limited static image.
Stainless steel dolphins are also a common subject in stainless steel carvings. Generally, two or three stainless steel dolphins are combined together to make them lifelike. Stainless steel dolphin sculptures generally stand in squares, flower beds, parks and other places. Stainless steel dolphin sculptures are generally mirror-finished, hand-made, and polished after forging. This stainless steel dolphin sculpture was chosen with spray paint.
Dolphins are symbols of high intelligence and friends of mankind. Therefore, many places have stainless steel sculptures. The stainless steel dolphin sculpture is made of 304 stainless steel plate (2mm) forged and enlarged. After molding, the surface is sanded and painted. The specification, surface and shape of stainless steel sculpture can be customized.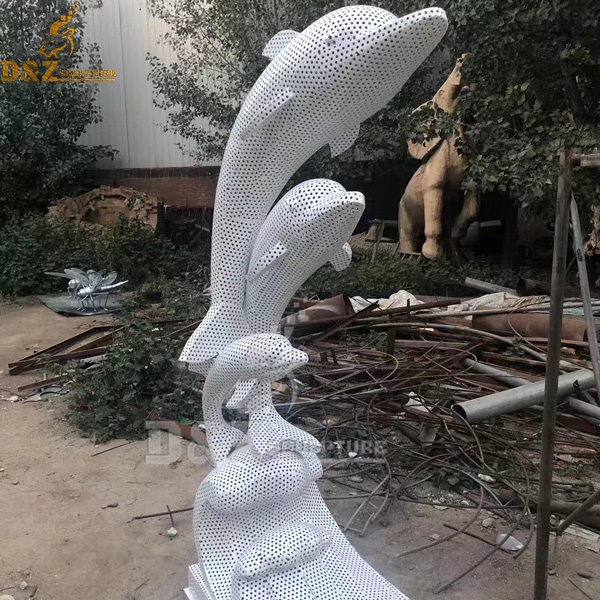 There are many legends about dolphins, and some are true. For example, the Greek historian Lotustu recorded such an incredible story in the book The Legend of Arion: Arion was a famous lyric poet and musician living on the island of Lesbos in the 6th century BC, Once, after a tour in Italy, he was going to return to Collinton by boat with a large amount of money. On the way, the sailors were jealous of the money and tried to make money and kill him. At that time, Arion asked him to sing another song, and the sailors agreed. Who knows, his beautiful singing has attracted countless ocean beasts. After he was thrown into the sea, one of them carried him all the way to the shore. This mysterious animal is the famous dolphin. Even in modern times, incidents of dolphins saving people have occurred frequently. For example, the magazine "Natural History" published in 1949 published a story about a Florida lawyer's wife who was drowned in seawater. Push her to the beach.
Dolphins can not only save people in times of crisis, but also are talented performers. They can perform many wonderful programs, such as drilling hoop, playing basketball, "handshake" and "singing" with people, etc. More importantly, Dolphins have their own "signal" vocalizations, which let their companions know who it is and where it is, so that they can communicate with each other.