stainless steel gaint abstract mirror surface pine cone garden sculpture DZM 1219
custom made stainless steel gaint abstract pine cone garden sculpture for sale 1.Products NO.: DZM-1219 2.Material: Stainless steel /#304/#316 3.Thickness:more than 2mm 4.Size:Custom made depends on your prefer 5.Color: custom made depends on your prefer 6.Package: strong wooden cases 7.Service: Free design, creation, door to door delivery 8.advancement: Factory directly 9.Guarantee: more than 30 years 10.MOQ: 1pc
Place of Origin:
Hebei, China
Pine cone sculpture
Abstract stainless steel sculpture as a branch of sculpture art, more active in the 21st century in the rapid development of today, it is abstract, modern, simple, rational and sensual, geometric, conceptual and other characteristics by people's favorite. As one of the presentation forms of modern art, the formal composition of abstract stainless steel sculpture is also becoming simpler. Abstract sculpture emphasizes the artist's subjective ideas, is extracted from real life some factors, the point, line, surface, body, color and other modeling elements in the space of separation and combination, swimming and condensation, through the interaction of simple modeling elements, constitute a certain visual image, to convey a certain meaning, to form a certain atmosphere and beauty of the form of sculpture type. Abstract stainless steel sculpture is rich in philosophy or analysis of the beauty of the connotation, the formation of aesthetic categories of new and different, disorderly, discordant aesthetic qualities. Abstract stainless steel sculpture has a difficult to understand place, there is a kind of lofty mystery, it is because of this, we are more powerful pursuit of his art.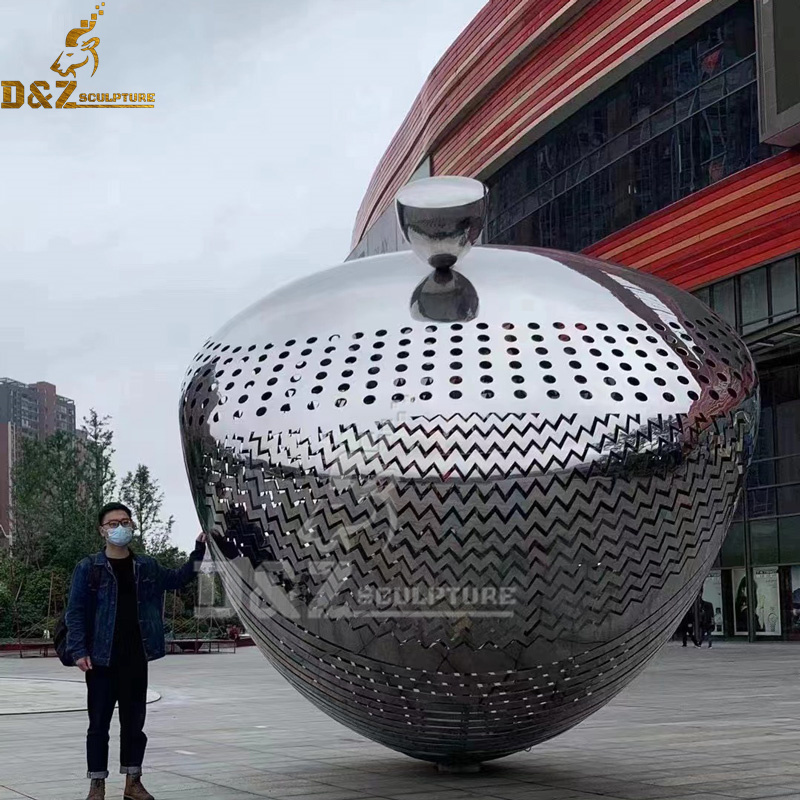 Now the general common fruit sculpture is glass fiber reinforced plastic, because the price of glass fiber reinforced plastic is cheap, so now very popular, many parks, neighborhoods are placed inside the glass fiber reinforced plastic sculpture, but the reason why the glass fiber reinforced plastic sculpture is cheap, because of its short life span, it is easy to crack, especially the painted effect of the sculpture, cracking affects a lot, some customers because of the recognition of this, want to purchase the use of a longer time fruit Sculpture, so choose to use stainless steel material.
Because of the plasticity of stainless steel plate, so it can be used to make a variety of shapes of sculpture, many laymen see some beautifully crafted stainless steel sculpture, always feel incredible, can not understand how it is made. In fact, stainless steel sculpture is not complicated, to put it bluntly is forging, splicing, and then complex stainless steel sculpture is no more than these techniques. Stainless steel fruit sculpture longer service life, the surface spray metal paint, for stainless steel surface adhesion is very strong, and after spraying a good finish, will also spray varnish, used to protect the finish, so you do not have to worry about the problem of paint loss in the short term, if it is a small fruit sculpture, you can also achieve the effect of baking paint.